Why work for us?
Page intro
Learn about the benefits of working for the WCB, including work-life balance.
Page content
Awards and recognition
Text
We are so proud of our amazing team of employees! They shape who we are and they are the reason we've been one of Saskatchewan's Top Employers every year since 2011!
Text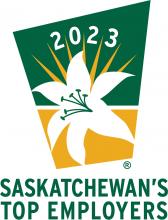 Staff benefits
The Saskatchewan Workers' Compensation Board (WCB) provides a number of staff benefits, including:
Support to new mothers and fathers (including adoptive parents). We top up maternity and parental leave payments to 95 per cent of salary (up to 17 weeks). We also offer employees the option of extending their leave into an unpaid leave of absence.
Employer matched contributions to a defined-contribution pension plan.
A dental plan in which the WCB pays up to 100 per cent of premiums.
Alternative work options that include flexible hours, job-sharing, a 35-hour work week with full pay and an earned-days-off program.
Three weeks of paid vacation upon hire.
Individual performance reviews every 12 months.
In-house, online and leadership training.
Tuition coverage of up to 100 per cent each year.
Up to one paid day a year for charitable volunteer work.
Work-life balance
The WCB's healthy lifestyles committee manages a unique lifestyle rewards program that includes:
Lunch-and-learn sessions with guest speakers.
A purchase program that provides interest-free loans to eligible staff to purchase assistive devices, computers, ergonomically supportive office equipment/furnishings and fitness equipment.
A weight-management program that subsidizes employees' efforts to manage their weight.
A smoking-cessation program that subsidizes employees' efforts to quit smoking.
A full-service employee assistance program that includes work-life and wellness resources.