How we are organized
Page content
Accordion content
The WCB has a three-person board consisting of a chairperson and two board members. Each is appointed by the provincial government. The board members are appointed after consulting with business and labour organizations. One board member is appointed to bring the viewpoint of employers to the board, and one is appointed to bring the viewpoint of workers.
Chairperson: Gord Dobrowolsky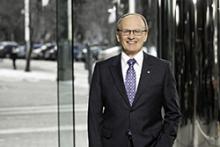 The WCB's chairperson, Gord Dobrowolsky, was appointed in 2013. From Prince Albert, Gord obtained his bachelor of education from the University of Saskatchewan and taught for five years before going into business. He operated Delta Management Ltd., a public relations and marketing company, for six years and spent 14 years in the cellphone industry, during which he earned SaskTel's Top Dealer award nine times.
Gord has extensive board experience, having served as the vice-chair of the Saskatchewan Liquor and Gaming Licensing Commission, a member of the Saskatchewan Executive Council for six years and the chairperson of the Prince Albert Parkland Health Region for four years, beginning in 2009.
In addition to pursuing ongoing director and adjudication training, Gord has completed his certificate in adjudication for administrative agencies, boards and tribunals from the Osgoode Hall Law School of York University and has received his professional director designation from the Johnson Shoyama Graduate School of Public Policy.
Gord was a volunteer board member of the Victoria Hospital Foundation in Prince Albert for six years. He is currently a member of the Prince Albert and District Chamber of Commerce, the Prince Albert Elks Club and the Prince Albert and Saskatchewan Wildlife Federation, and is a supporter of Special Olympics. In 2014, SaskBusiness named him one of Saskatchewan's Men of Influence and in 2015 he was named to the Wall of Honour by the College of Education at the University of Saskatchewan.
Worker Representative: Garry Hamblin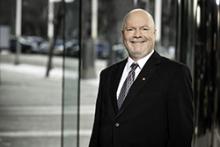 Garry Hamblin was appointed the WCB worker representative in 2015. Garry, who is from Saskatoon, has a Canadian Insurance Professional designation and worked for 27 years at Saskatchewan Government Insurance (SGI). Over the course of his career, Garry participated in hundreds of mediations and appeals within SGI's no-fault system. He has brought to the board his extensive knowledge of the insurance industry and his experience in helping people to access benefit entitlements, as well as understand legislation and policy relevant to their unique situations.
He is a past president of the Canadian Office and Professional Employees Union, Local 397 and is a board member of Conflict Resolution Saskatchewan Inc. Garry received his certificate in adjudication for administrative agencies, boards and tribunals from the Osgoode Hall Law School of York University in 2016 and in 2017 he completed the ICD – Rotman Directors Education Program. He continues to pursue ongoing governance and adjudication training.
Employer Representative: Larry Flowers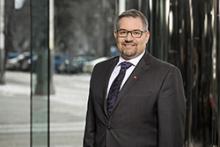 Larry Flowers, who is also from Saskatoon, was appointed as the WCB employer representative in 2015. Larry brings strong and varied business experience to the board, which includes work in the agriculture, manufacturing, mining, finance and non-profit sectors. Since 1989, Larry has worked as an internal and external business strategist, implementing strategic human resources, training, safety and business solutions.
Larry has a bachelor of education degree and a business administration certificate from the University of Saskatchewan. He holds a certificate in adjudication for administrative agencies, boards and tribunals from the Osgoode Hall Law School of York University, and also completed the ICD – Rotman Directors Education Program. He recently obtained his masters of adult education through St. Francis Xavier University while also pursuing ongoing training relevant to his governance and appeal responsibilities on the board.
Larry has a Chartered Professional in Human Resources (CPHR) designation and is a member of CPHR Saskatchewan, where he has served on the professional development committee. He has also served as a governance committee board member with the Saskatoon Industry-Education Council and has held a number of other volunteer board positions. Larry has chaired the Saskatchewan Mining Association's human resources committee and was a member of the International Mining Innovation Institute's Education and Training Panel, as well as the Saskatchewan Institute of Applied Sciences and Technology (SIAST) Mining Engineering Technologist Advisory Panel.
The board believes that a strong governance framework is necessary to ensure that it fulfills its responsibilities to workers and employers in the most effective manner. As a result, the board is committed to ensuring that its governance structures and activities reflect sound governance principles.
The board decides the WCB's broad strategic imperatives. It also makes certain that WCB operations and financial performance have the proper oversight. This requires board members to:
Provide long-range objectives and policies.

Recommend legislative change to the provincial government.

Safeguard the WCB's resources and assets.

Monitor the WCB's performance.

Report to stakeholders.

Hear and decide final appeals on employer classifications or injured worker compensation and benefit decisions.
The WCB has a CEO and a six-person executive team. While the board sets the strategic direction for the WCB, it is the role of the executive and management to lead staff to deliver excellence in service and create meaningful value for WCB customers.
CEO: Phillip Germain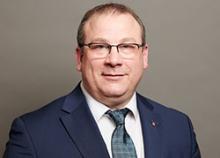 The WCB's CEO, Phillip Germain, was appointed in 2019. Phillip holds a bachelor of science degree from the University of Alberta and holds a professional designation from the Canadian Board of Registered Safety Professionals. After completing his degree, Phillip has had a long career as a health and safety professional, manager and executive, starting with the Alberta Construction Safety Association.
After moving to Saskatchewan in 1995 to work for the Saskatchewan Construction Safety Association, Phillip took on more progressive roles as the manager of the Agricultural Manufacturers of Canada Safety program in 1998, executive director of prevention at the Saskatchewan WCB in 2005 and vice-president of prevention, employer services and policy in 2012. In 2014, he was awarded Saskatchewan Safety Professional of the Year. In 2019, Phillip was appointed as CEO of the Saskatchewan Workers' Compensation Board.
Phillip's rural roots have provided him with a strong sense of community and volunteerism. Phillip has volunteered for many community organizations including the Ronald McDonald House, 2012 Capital Campaign, Saskatchewan Brain Injury Association, Regina Minor Girls Softball Association, Regina Ringette Association, Safe Saskatchewan, the Saskatchewan Institute of Applied Sciences and Technology (SIAST, now called Saskatchewan Polytechnic), Saskatchewan Farm Safety Council and Saskatchewan Safety Council.
He currently serves as the vice-chair of the International Association of Industrial Accidents Boards and Commission (IAIABC) Disability and Prevention Committee and on the board of governors for the Canadian Centre for Occupational Health and Safety.
Vice-President, Transformation Program: Stuart Cunningham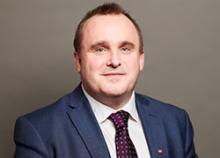 Born and raised in Dublin, Ireland, Stuart Cunningham holds a bachelor of law degree, graduating with honours from the National University of Ireland – Galway. Stuart put his learning into practice with Matheson, Ormsby and Prentice, one of Ireland's top five legal firms, and obtained articling experience in the corporate and probate law divisions.
Stuart moved to Canada in 2006. Upon switching continents, Stuart also switched career direction, taking a role as a labour relations consultant with the Saskatchewan Association of Health Organizations (SAHO) in 2008 before being promoted to senior level consultant in 2010. During this time, Stuart led the complicated renegotiation of a number of collective agreements to conclusion, including SEIU-West, RWDSU and later HSAS. Stuart was also responsible for the oversight and co-ordination of essential services negotiations for a number of health regions during this time.
In 2011, Stuart joined the executive team at the Five Hills Health Region (FHHR) as vice-president, human resources. During his six years with the FHHR, Stuart led or was involved in a number of high-profile transformative initiatives, including the development of a number of strategies related to the construction of and move to the new Dr. F. H. Wigmore Regional Hospital in Moose Jaw. This included the development of staff and physician-facing programs related to change management, communications, labour relations, staffing, organizational development and safety/orientation.
During this time, Stuart also graduated successfully from the JBA Lean Leader program, investing over 180 hours from June 2013 to June 2014. This learning was applied by leading 12 process redesign or improvement events in advance of the move to the new hospital. This education sparked a keen personal interest in the role of leadership in driving a culture of excellence and a passion for the people side of continuous process improvement.
From 2015 to 2016, Stuart served as a member of the board of trustees for the Saskatchewan Healthcare Employees Pension Plan (SHEPP), gaining valuable governance experience and insight into the role of the board in the administration of the plan.
Stuart joined the Saskatchewan WCB in February 2017 as vice-president, human resources and communications to assist the WCB in its own improvement journey, assuming responsibility for the WCB's continuous improvement programs and appeals department in June 2019.
In May 2021, Stuart assumed the role of vice-president, Transformation Program. This new, temporary position oversees the complex planning, scheduling and execution of the various projects that the WCB will undertake under the Business Transformation Program over the coming five to seven years. The temporary nature of this role means that it will not exist beyond the Business Transformation program.
Chief Technology Officer and Vice-President, Business Intelligence - George Georgiadis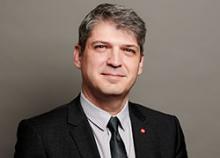 George Georgiadis is an accomplished professional with more than 20 years of experience in senior IT positions in Saskatchewan, Alberta, Ontario and New York that display continuous advancement and recognition of achievement. George moved from Athens, Greece to Saskatoon Sask. to pursue his post-secondary studies. He holds a bachelor of science degree in computational science and a masters of business administration from the University of Saskatchewan.
George's strengths include leading an organization through the creation of multi-year information management/information technology (IM/IT) strategic plans aimed to meet organizational strategic goals and objectives. During his tenure, George has successfully completed numerous initiatives that moved organizations forward in digitization, automation and paperless strategies. Incorporating emerging industry analytic trends and the use of intelligent automation were critical success elements in such strategic initiatives.
In April 2020, George was appointed as chief technology officer and vice-president, business intelligence of the Saskatchewan Workers' Compensation Board. His previous roles included chief technology officer and senior operating officer for Capital Health (health authority now part of Alberta Health Services), as well as vice-president, application management and support service for eHealth Ontario.
Vice-President, Human Resources, Communications, Continuous Improvement and Appeals: Trevor Hall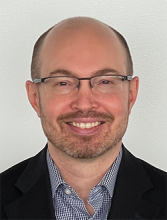 Trevor Hall holds a bachelor of commerce from the University of Saskatchewan. He has more than 20 years of experience working in various human resources roles. He has worked as the manager of human resources and communications for WPD and Rosthern Ambulance, human resources consultant for the Battlefords Health District, director of human resources, finance and supportive services for South Country District Health, and the manager of employment services for the Regina Q'Appelle Health Region. He also worked for the Canadian Blood Services for four years, first as a manager of human resources and then as a senior employee relations consultant for Western Canada.
Trevor joined the Saskatchewan WCB in 2012 as the director of human resources. In May 2021, Trevor was appointed the vice-president of human resources, communications, continuous improvement and appeals.
Vice-President, Prevention and Employer Services: Kevin Mooney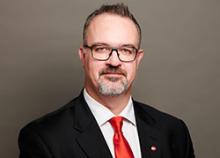 Kevin Mooney holds a masters of business administration from the University of Fredericton and a bachelor of human justice degree from the University of Regina, and is a Canadian Registered Safety Professional.
Early in his career, Kevin worked in law enforcement, including an appointment as a peace officer promoting commercial traffic safety on Alberta's highways. After moving back to Saskatchewan in 2003, Kevin's career transitioned into the field of health and safety where he gained progressive experience in the transportation, agriculture, commodity and wholesale/retail sectors. Kevin joined the Saskatchewan Workers' Compensation Board in December 2017 as director of prevention and was promoted to vice-president, prevention and employer services in 2019.
In his current role, Kevin provides leadership and strategic direction to injury prevention initiatives in the province, including WorkSafe Saskatchewan, and assumes responsibility for the WCB's employer services programs. Kevin brings with him more than 17 years of experience in delivering health and safety solutions to the workplace, was recognized as the Saskatchewan Safety Professional of the Year in 2011 and received the Premier's Award for Excellence in the Public Service in 2015 and 2018. Kevin also serves as the president of the Saskatchewan Safety Council and previously served as chair of the South Saskatchewan Chapter of the Canadian Society of Safety Engineering.
Chief Financial Officer (CFO) and Vice-President, Corporate Services: Crystal Nett, CPA, CA, ICD.D, ACPC, ACC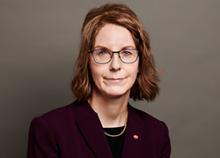 Crystal Nett is also a Canadian Internet Registration Authority (CIRA) board member. She was formerly Saskatchewan Polytechnic's associate vice-president of strategy, and Saskatchewan Research Council's CFO and vice-president of the finance, safety and risk division. 
In addition to corporate management and leadership experience, she has extensive experience in corporate governance and has served on many executive committees and boards of directors. Prior to joining the CIRA board, she was a member of the Canadian Partnership Against Cancer (CPAC) board, chair of the SaskTel Centre board of directors and audit/ finance committee chair of the Royal University Hospital Foundation board of directors. She is a chartered professional accountant (CPA, CA), a certified director of the Institute of Corporate Directors of Canada (ICD.D), an Adler-certified professional coach (ACPC) and an International Coach Federation (ICF) associate certified coach (ACC).
Vice-President of Operations: Jennifer Norleen-Beitel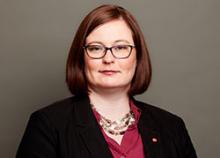 Jennifer Norleen-Beitel holds a bachelor of science degree from the University of Regina. In 2007, shortly after completing her university studies, she joined the Saskatchewan Workers' Compensation Board as a quantitative research analyst. Beginning in 2012, Jennifer started her leadership journey, taking on more progressive leadership roles as manager of employer services. In 2013, she moved on to manager of employer premiums and led an external review of the WCB's experience rating program. She played an integral role in improving the communication of premium rates and the WCB's rate model enhancements.
In 2018, Jennifer moved into the director of employer services role where she led the management team and front-line staff to enhance the WCB's customer experience through continuous process improvement. Also, in 2018, Jennifer received the NextGen Award from the International Association of Industrial Accident Boards and Commissions (IAIABC). In 2020, Jennifer took on her current role of vice-president of operations.
Born and raised in Regina, Jennifer has volunteered with a number of community organizations, including First Books Canada and the Pioneers, as well as coach for her children's soccer teams. Jennifer currently serves as a member of the IAIABC's Disability Management & Return to Work Committee.
The CEO manages day-to-day operations through a six-member executive team.
Operations:
Prevention and employer services
Strategic finance and corporate services
Information technology services and business intelligence
Human resources, communications and CPI
Other WCB departments